Serving your 100% Daily Anime Requirement!
Like Fast Food Anime on Facebook!


| | |
| --- | --- |
| Upcoming releases | Recent releases |
| | |
---
Pinder's Perspective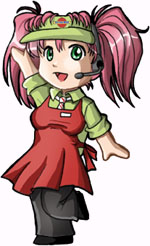 Hi!
Online sales have been suspended while we work on a new web site design. Sorry about the inconvenience, but we hope to get the site running even better than before. One reason for this is our expansion into imported Japanese items. Soundtracks and other CDs, figures, clear files, pencil boards, and a whole slew of limited edition goodies have overrun our warehouse. The difficulty in presenting an efficient web site with limited-quantity items while also managing convention sales has proven a big challenge.
So for now, we are focusing on convention sales. Please visit us as we travel across the Midwest, Plains, and Ohio Valley!
I hope to see you at a convention soon!
- John